As some of you already might've heard it, I'm currently programming a little Tetris-Game. It's just good 'ol Tetris, but with lots of opportunities to make Combo-Scores, like with Super-Blocks, Multiple-Line-Killing, Global Multiplicators and Stage Bonus. I'm kinda proud to say, that it's quite addicting, if you get into it. Some of you, like CPS and tarantino_is_god already play-testet it. This is now the latest BETA-Version, fully playable.



Controls:

Arrow right = Move Piece right

Arrow left = Move Piece left

Arrow up = Turn Piece

Arrow down = Accelerate Piece downwards

ESCAPE =Quit Game

SPACE = Pause Game

M = Toggle Music on/off

ENTER = Validate, after you've entered a new Highscore

[quote]Change-Log since last Version:



Changed the Basis-Points to (1,5,15,35) thus making Line-Scoring more rewarding

Added Global Multiplier. It starts of with 1 and goes up to 4, then counts down to 1 again.

Global Multiplier changes after a certain number of lines have been killed. It's calculated by

(1 => 7, 2 => 4, 3 => 2, 4 => 1). Global Multiplier affects Super-Block-Scoring, Multiple-Line-Scoring

and Tetris-Scoring.

Now possible Killer-Combos with Multiple-Line-Scoring by adding a multiplier to Height-Bonus, which

kicks off immediately after killing the next line. The Multiplier depends on the number of lines

deleted in the previous scoring and the current state of the Global Multiplier.

Added Super-Bonus. Super-Bonus continuosly counts up, but only kicks off after lines have been

killed with a Super-Block. Super-Bonus is entirely based on the number of lines deleted, there are

no Multipliers or Boni adding to the amount. It is calculated by (1,4,12,28). Released Super-Bonus

is displayed with a "+" before the number.

Tetris-Scoring is now fully supported. A special message is being displayed and a Bonus is added,

depending on the current state of the Global Multiplier.

Added KeyFlush() after a block has been placed, so having pressed the down-arrow won't affect the next piece.

Added a display for current Combo-Highscore.

When Game is paused, Music toggles now off automatically, and turns on again, when Game is resumed.

Added a "Thud"-Sound, when a piece has been placed without scoring.
[/quote]
A Screenshot: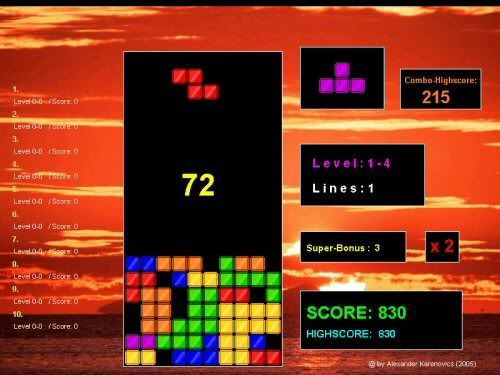 And, most important, the Download-Link:

<LINK_TEXT text="http://s44.yousendit.com/d.aspx?id=1ZY7 … CXUU7IKDMR">http://s44.yousendit.com/d.aspx?id=1ZY7NXEJM8F6109ECXUU7IKDMR</LINK_TEXT>



Now, have fun and post your Highscores (and any Bugs you may encounter). I'm still working on it, you know.