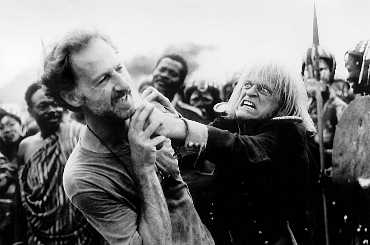 Werner Herzog (Director) and Klaus Kinski (Actor). Together they did not just make great movies, they made great cinema.
Have you seen Fitzcarraldo?
I've been meaning to see Fitzcarraldo for awhile now. Kinski and Claudia Cardinale? WTF am I waiting for?



Agguire, The Wrath of God has one of my most favorite ending shots of all time.
Yes I have seen Fitzcarraldo. It's part of my Herzog/Kinski box set. Saw it only once and I really liked it. Though I'd like to watch it again. I'm going through the Herzog director's commentaries at the moment, starting with 'Aguirre: The Wrath of God' (I would compare that film to '2001: A Space Oddesy' and 'Apocalypse Now'). I haven't seen Werner Herzog's non-Kinski films such as 'The Enigma of Kasper Hausar' or even his documentaries (with the exception of 'My Best Fiend') so if any one has seen those pictures I'd love to hear what you think. The one that affected me the most was 'Woyzeck'. I was so emotionally moved that I was in tears when it came to the final scene by the river. I empathise with the suffering that the lead character went through. Sadly there is no commentary on that DVD.



I cannot believe it took me so long to discover such great cinema.



THE HERZOG/KINSKI BOX SET:



Aguirre: The Wrath of God

Nosferatu

Woyzeck

Fitzcarraldo

Cobra Verde

My Best Fiend
I LOVE WERNER HERZOG



Just so you know a couple films without Klaus Kinsky are The Enigma of Kasper Hausen and Stroszek. I highly recommend Stroszek it's my favorite film by him
I wonder why this man is so overlooked in Europe, he's an absolute brilliant mind, the only man that ever was able to direct Kinski, i respect that, very much



i can't seem to get my hands on the Herzog/Kinski boxset, i'm dying to get it



i own



Aguirre

Fitzcarraldo

Kasper Hausen

Woyzeck

Cobra Verde



all amazing, piece of by piece, yet Aguirre taking the lead, Kinski has never expressed his insanity better than in Aguirre, i'm looking for more Herzog stuff, visually this man almost makes me cry, simplicity and beauty, thrilling! one of Europa's greats, and definitly belongs in the list of The Kings of Germany, along with Fritz Lang and Murnau




Anyone seen his most recent film 'Grizzly Man'? A documentay about a man who loved and lived with bears to the point where he was eaten alive by them. I haven't but I want to. On Mark Kermode*'s alternative Oscars he said that predictably 'March of the Penguins' will win but the real best documentary of recent times is 'Grizzly Man'. You have most of the films in the boxset Mr.Exhale except for 'Nosferatu' (which I prefer to the F.W.Murnau version and I love Murnau) and 'My Best Fiend' a documentary about Klaus Kinski. There is another Herzog boxset on sale at the moment.





*In a television interview with Herzog on BBC2's 'The Culture Show' the director in mid interview was hit by a bullet shot from a prankster playing about with an air rifle. When Mark Kermode had a look at the wound (it was bad) in the director's home Herzog just shrugged it off as if it was nothing.
i've heard alot about Grizzly Man, haven't seen it though, i've seen various clips but not the full thing, i'm seeing it the second it's for rent

i noticed that Treadwel looks like an annoying guy, and shows lots of signs of insanity, much like Kinski
Grizzly Man aired on The Discovery Channel over here. But it was so badly infested with commercials that I couldn't even finish it. Looked brilliant from what I saw though.



Finally saw Fitzcarraldo a few months back. Thought it was great. Up next is Woyzeck or Burden of Dreams.