What was considered to be the mecca of Grindhouse movie-going was New York's 42nd Street. The old,rough and rugged Times Square which held movie-houses such as The Liberty,Rialto,Empire,Anco,Lyric,etc.

The thing that I would like to do with this topic is to retrieve as much information regarding anything to do with 42nd Street (Crica 1968-1989). Links,articles,multimedia and so forth, in preparation for Grindhouse that will be unleashed in a couple of months.



For starters, here's A Clip featuring a tour of the area in it's final days before being transformed into what it is now.



How about naming movies that take place in New York where you see the old movie-houses in the background and what flicks are featured on the marquee?

Check out the opening of the original Shaft. A sexploitation double-feature is currently playing on one of the theaters, Sex School and The Wild Females.



In Basket Case, Duane walks in front of The Apollo Theater (Famous for it's Kung Fu triple-features) he later buys a ticket to see Sonny Chiba's The Bodyguard.



Probably the biggest showcase for the vintage 42nd Street so far is Taxi Driver.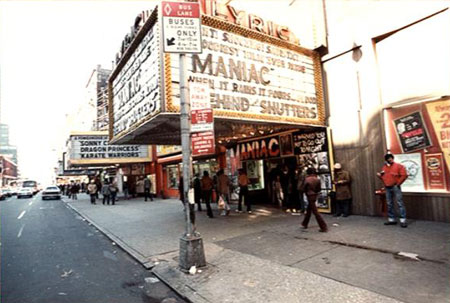 The Lyric (Theater in the above pic which has Maniac playing) was home to the porno flick that Travis took Betsy to. And take a good look at what's playing on the other side of the street when they go outside and argue. Bucktown on a double bill with Ripped-Off (An Italian thriller starring Robert Blake and Ernest Borgnine) plus a big banner for Detroit 9000 can also be seen nearby!

And in the various sequences when Travis is driving around in his cab, keep a close look for other movies playing. You'll spot:

Mr. Majestyk

The Texas Chainsaw Massacre (On a double-bill with Return of the Dragon. Can you imagine going to that?!)

Candy Tangerine Man

Anita: Swedish Nymphet (Starring Christina Lindberg!)

Dolemite (On a double-bill with something called The Mafia Wants Blood!)

See any others?



Feel free to add other stuff. Just trying to keep the spirit of Grindhouse-viewing alive!