hi there.

you know that in the UK, Reservoir Dogs is not published by Artisan. That means, the brits among us won't get that great Special Edition that was released in the US, Australian and soon in Germany, too.

BUT they always had a good Dogs DVD, though. The british Momentum Pictures Reservoir Dogs DVD always had 2.35:1 transfer and is a great DVD to own.



BUT also: Jackie Brown and Pulp Fiction are released by Buena Vista in Britain, too. That means, if you live in England or elsewhere, you can get the BRITISH Special Editions, which are identic to the US ones, for about half the price or so…



Now in England you even get something you only get in England: A Tarantino DVD Collection in a paper drawer and Tarantino signature!!!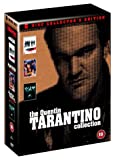 CLICK HERE TO ORDER



6 DISCS FOR NOW ONLY 12 POUNDS! WHAT ARE YOU WAITING FOR?



If you have this box, would you share your comments on this box please? I am curious about how the packaging is or if there are posters inside or what.