A Bittersweet Life (Dalkomhan insaeng) (Korea 2005)



Director: Kim Jee-woon

Cast: Byung-hun Lee, Kim Yeong-cheol, Shin Mina



A Bittersweet Life is a new film from Kim Jee-woon, the director of â€?A Tale of Two Sistersâ€? and â€?The Quiet Familyâ€? (later remade by Takashi Miike as â€?The Happiness of the Katakurisâ€?). The movie stars Byung-hun Lee (JSA, 3-Iron) as Sun-woo, a gangster boss' right-hand man. Sun-woo is given a simple assignment; he must find out whether his boss' girlfriend is having an affair with another man, and to take care of the situation if necessary. But soon things get much more complicated…



The first thing you will notice is the visuals. The whole movie looks simply fantastic. Cinematography is excellent, and the music is used masterfully. Especially the first and the last 30 minutes feature some near-perfect scenes. Technical aspects are almost on the same level as in Chan-wook Park's movies. A Bittersweet Life is a pleasure to watch from start to finish.



The films main flaw is the lack of character development. We never really get to know the main character. That's partly intentional, as Sun-woo is an arrogant and ice-cold killer. Luckily the actors are doing good job, especially Byung-hun Lee, who is obvious to become the next korean superstar. He manages to bring depth to his character, despite the small amount of characterization.



Another weak point is the straightforward story. Sometimes the storyline follows quite familiar ground. It certainly doesn't ruin the film, but it's one of those things that prevent this movie from being a masterpiece. However, the film never gets boring, thanks to striking visuals and Byung-hun Lee's super-cool performance. Despite its flaws, A Bittersweet Life is an excellent film. It's an highly enjoyable action-thriller executed with strong sense of style. Story and characters could be better, but everything else works. It may not be the best Korean film of they year, but it's definitely the coolest.



8,5/10



DVD

Region 3 dvd by CJ Entertainment includes the director's cut version, which runs 2 minutes longer than the theatrical cut. The director has not only added new scenes, but also deleted and altered existing ones. The dvd itself is good, but not excellent. My only real complaint is that the picture is bit soft. Otherwise this is good release, though it would have been fair to include the theatrical cut, too. Disc 2 is full of bonus features, including almost 20 deleted scenes. Unfortunately extras are not subtitled.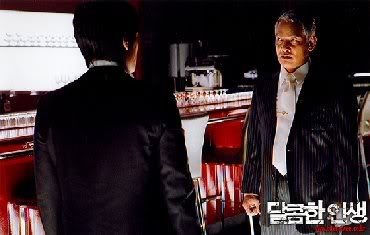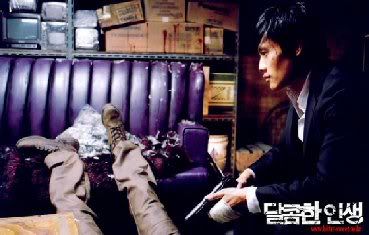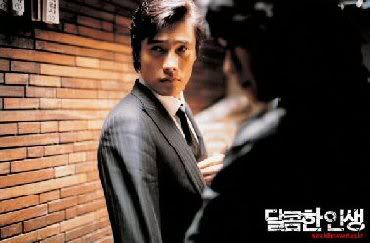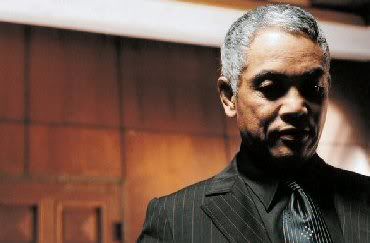 [color=red]A Bittersweet Life topic: http://www.tarantino.info/forum/index.php?topic=3997.0