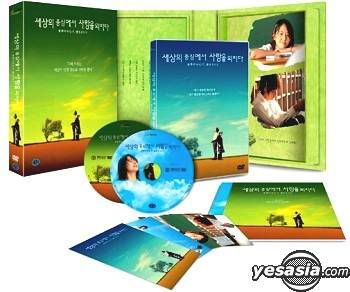 SEKAI NO CHUSHIN DE, AI WO SAKEBU (Japan, 2004)

(Watched on the Korean DVD 2-Disc Box)



Director: Isao Yukisada

Actors: Masami Nagasawa, Mirai Moriyama, Kou Shibasaki



This japanese Drama is about a boy (Sakutori) who gets to know Aki, a girl who (at first sight) seems to be high above him, way smarter, more beautiful, more adult, but somehow they get very close and they fall in love. Throughout the time they exchange secret messages in form of recorded tapes, because this way they can communicate better about their true, deeper feelings. The story is told in flashbacks, with the guy, much older now, discovering those tapes and such remembering his one and only love-affair from high-school. But then something very tragic happens:



SLIGHT SPOILER

[size=70][color=white]The girl has Leukemia and she is going to die, soon.[/size]

SLIGHT SPOILER END



If there's one damn sad and tragic movie on earth, it must be "Sekai no chushin de, Ai wo sakebu" (roughly translated into: "Crying out Love at the Center of the World"). It has been quite a blockbuster in Japan and literally brought the whole nation to tears. And, indeed, there's everything in there to make you feel for these young and doomed lovers, to make you cry, to drag you down and I have to admit, that it worked in every single scene. You really have to be a coldblooded cynic to not be affected by all those tragic events and the tearful melodrama. And it's a beautiful movie, as well, but not in a cinematic way like "The Classic", though: "Sekai no Chushin de, Ai wo Sakebu" works on a different level, it has the feel of a TV-Drama, but that's not necessarily a bad thing. The acting is very believable, everything seems real and true to life. This movie doesn't need a big screen to work, but there are nevertheless some very beautiful pictures to be seen. And, of course, the music: Time and again there was a very tender and romantic piano-piece to be heard and everytime the music came on, the moment was just perfect. I even felt tears building up inside my eyes while just listening to the very first notes. This movie may be manipulative, yes, but it's just to damn perfect constructed to be angry about it. In the end there wasn't a single hole in the storyline left.



First-Class tearjerker, highly recommended for those die-hard Romantic-Movie-Fans among us, but prepare to read a lot of dialogue as well. However, due to the superior acting this movie never became dull, and throughout there were always tiny twists in the storyline to keep up my attention. And you bet, I'm going to watch it again!



9 out of 10 tear-soaked hankies.