Kill Bill Vol.1 & 2 Twin Pack (Limited Edition)(Japan Version)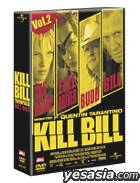 Release Date: October 8, 2004 (Pre-order your copy now!)

Language: English, Japanese

Subtitle: English , Japanese

Rating: III

Package Weight: 300 g

Publisher: Geneon Entertainment



In addition to the first pressing of the feature, this set includes making-of featurette, unreleased scenes, footage from the premier party, and trailers, Kill Bill Vol. 1, and a special outer case for storage and display.